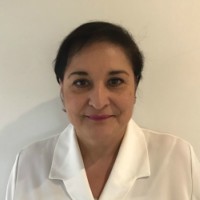 Maria was born in Madrid, Spain and relocated to South Africa at the age of seven. She completed her schooling in 1976 in Johannesburg after which she studied law for three years, at Wits University, but did not complete the degree as it was not her calling.
In 1981 she qualified as an EEG Technician and worked as such until 1991. She was then invited to be part of one of the first sleep laboratories opened in Johannesburg, by Dr Kevin Rosman and Dr Alison Bentley, who trained her in sleep disorders such as Obstructive Sleep Apnoea, parasomnias, and their treatment.
In 1999 she moved to Milpark Hospital where the Milpark Sleep and Epilepsy Laboratory was opened, and worked closely with neurologists, pulmonologists, cardiologist and other medical specialists, testing and assisting with CPAP compliance for 13 years.
She has worked in CPAP sales and aftercare follow-ups. This did not fulfill her, as Sleep disorders are her passion.
She has 28 years of experience in the sleep disorder industry and she hopes to be a valuable member of the Sleep Renewal team.